Pasting Text from Word
Caution! Pasting text from Word can do funny things. We recommend pasting text from Word as plain text using the Paste as Plain Text button in the WYSIWYG (clipboard with a T on it). It is always best to type in the website natively.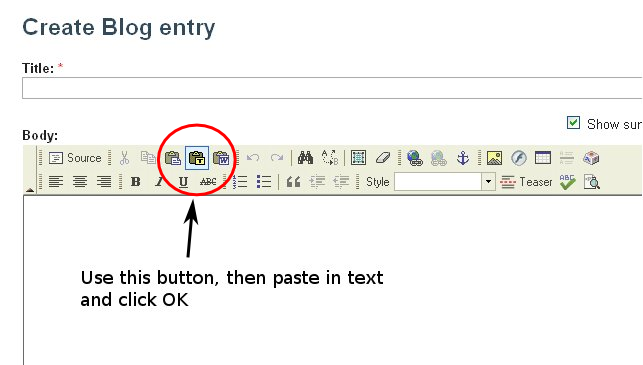 But if you must, here you go:
Find the page you want to edit or make a new one.
Click the Edit tab at the top of the page if working on an existing page.
Open your Word document.
Select and Copy the text you want to import (CTRL + C), do not copy images.
Go back to the workspace page, find the Paste From Plain Text button in the WYSIWYG editor, a clipboard with a T on it.
Paste you text inside this box (CTRL + V).
Click OK.
Finish making the page and SAVE it.
Note: Remove all pictures before doing this, you must insert them separately using the Insert/Edit Image button. It lives just right of the anchor button. It looks like a little mountain with a sun rising (setting) over it.